Clients hire Ben because of his extensive knowledge in handling the recovery of special and defaulted assets in Washington, DC, Maryland and Virginia. Ben provides creative solutions in his representation of clients in foreclosures (including mortgages, deeds of trust and UCC financing statements), receiverships, debt restructuring, bankruptcy, collection litigation, title resolution, tax sale defense and evictions. He has an established track record of producing favorable results for his clients, often leading to a 100% recovery.
Ben has been at the forefront of foreclosure law as it evolves in Washington, DC, Maryland and Virginia, and constantly adapts the Foreclosure Department's practices to the frequently changing laws. Shulman Roger's Foreclosure and Receivership Department handles both judicial and non-judicialforeclosures, and Ben has achieved successful outcomes for GSE lenders, non-GSE lenders, independent investors, individual noteholders and hard moneylenders. Ben frequently meets with the Department of Insurance Securities and Banking and participates in CLE programs to maintain the highest level of working knowledge for foreclosure matters.
Receiverships can play a critical role in the most complex commercial and industrial asset foreclosures. A client's asset can risk losing substantial value in the event swift action is not taken to preserve property, tenant relationships and accounts associated with the operation of commercial and industrial property. Ben has a track record of success in appointing well-established receivers to maintain these assets. Receiverships serve to maintain the status quo so a client can make informed decisions about the best way to navigate available recovery options.
Ben has extensive experience dealing with debt restructuring. As a member of the Bankruptcy and Debt Restructuring practice group he has negotiated favorable settlements, forbearance agreements, deeds in lieu, and utilized other mechanisms that expedite the recovery process. Ben is often praised by his clients for providing expeditious alternatives to foreclosure and collection which produce significant savings and equity retention.
Clients also come to Ben for his knowledge of post-recovery value maximization tools. Through these efforts, clients can achieve added value to their cases. These tools are what can turn a special, non-performing asset, into a profitable asset. Specifically, Ben has successfully dovetailed his cases into the Firm's neighboring departments to create successful REO transactions, condo conversions, and zoning changes resulting in increased FAR (floor area ratio), all of which yield high values to the Firm's clients.  Clients can rely on Ben for his working knowledge of the Tenant Opportunity to Purchase Act (TOPA) and how it relates to sales of property and interests entities hold in properties. These efforts have played a key role in assisting clients in their efforts to revitalize areas of the District of Columbia.
Community service is one of Ben's passions. He is a volunteer for the Montgomery County Coalition for the Homeless, a counselor for the Friendship Club and Access Ministry at the Mclean Bible Church (programs designed to assist special needs children and adults) and received the Willard Owens Award for Excellence in Community Service from the Appalachian School of Law, a community service law school, the first of its kind, of which Ben is a graduate.
Prior to joining Shulman Rogers, Ben focused on representing large lending institutions and individual creditors in Washington, D.C. and Maryland, and also served as law clerk for the Environmental Protection Agency. He also served as managing editor and on the executive board of the Appalachian School of Law Natural Resources Law Journal.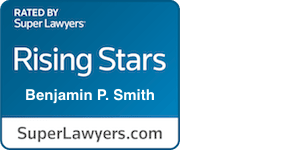 Recognition
Super Lawyers Maryland Rising Star, 2019
Willard Owens Award for Excellence in Community Service
Seminars & Speaking Engagements
CLE Speaker – Residential Foreclosure Process in Maryland – Montgomery County Bar Association
Master of Ceremonies – 2014 Maryland State Bar Association Real Property Section Annual Meeting
News & Events