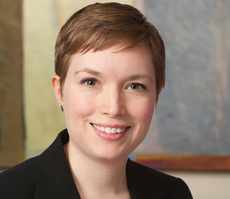 Sarah D. Cline
12505 Park Potomac Avenue
6th Floor
Potomac, MD 20854
Sarah Cline gets deals done. A transactional attorney with significant experience in both residential and commercial real estate deals, Sarah uses her litigation background to anticipate potential problems in a real estate transaction, and to address them before they cause undue delay or expense. Clients hire Sarah because her attentive, holistic approach to real estate transactions ensures smooth, efficient closings, and clients trust Sarah's practical advice to resolve any issues that may arise.
While her legal practice encompasses a broad range of real estate related areas, Sarah focuses her practice on the representation of buyers, sellers and lenders in the acquisition, sale and financing of real estate. In addition, Sarah regularly works with real estate and mortgage brokers, advising on their day-to-day operations, regulatory compliance and dispute resolution. She also assists with the real estate needs of solar energy companies with development projects across Maryland.
A recognized leader in both the local and state legal communities, Sarah was recently selected to serve in the Fellows Program instituted by the American Bar Association Section of Real Property, Trust and Estate Law and she currently co-chairs the Bar Association of Montgomery County Real Estate Law Section. In 2014 she was inducted as a Fellow of the Maryland Bar Foundation in recognition of her "outstanding dedication and contribution to maintaining the honor and integrity of the legal profession, the improvement and facilitation of justice, the work of the organized Bar of Maryland and civic leadership" – an honor given to only 2.5% of Maryland State Bar Association members. Sarah is a graduate of the Maryland State Bar Association's Leadership Academy, having been selected to serve as a Fellow in 2011. From 2010 to 2015, Sarah served as the Coordinator of the Wills for Heroes Program in Maryland, which provides free Wills, Living Wills, Health Care and Financial Powers of Attorney to first responders throughout the state, and she continues to volunteer with the program regularly. In 2014, she was awarded the Maryland Pro Bono Service Alex Fee Memorial Award for her work with the Wills for Heroes program. As a testament to her cumulative achievements, The Daily Record named Sarah to the 2016 Leading Women listing which recognizes women who are 40 or younger for the tremendous accomplishments they have made so far in their career.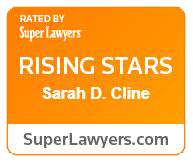 News
Publications
Events
Seminars & Speaking Engagements
Professional & Community Affiliations
Bar Association of Montgomery County, Real Estate Section – Co-Chair
Bar Association of Montgomery County, Maryland, Bar Foundation – Bar Leader
Maryland Bar Foundation – Fellow
Women's Bar Association of Maryland – Member
American Bar Association – Member and 2016-2018 RPTE Fellow
American Bar Association, Section of Real Property, Trusts & Estates, Single Family Residential Committee – Vice Chair
Wills for Heroes Foundation – Volunteer and past program Coordinator for State of Maryland
United Way of Frederick County – Board Member
Frederick County Association of Realtors – Affiliate Member