Empathic and determined are two of the words often used to describe Janelle Walwyn-White. With significant experience in divorce and custody cases where there are allegations of child maltreatment and mental health concerns, a Master's degree in social work and a law degree, Janelle has an exceptional and unique skillset that her family law clients benefit from. They feel understood and cared for throughout their often emotionally challenging journey and have the utmost confidence in Janelle's skills as a practitioner.
Janelle also has years of experience as a forensic interviewer with child sexual abuse victims and is adept at conducting family assessments and custody investigations. Drawing from this experience, Janelle maintains a strong sense of composure and uses her calming nature to diffuse tumultuous situations as she works with clients to resolve their divorce and custody disputes.
An active member of the Association of Family and Conciliation Courts – a coalition of attorneys and social workers – Janelle not only advocates on behalf of her clients but also makes sure they have access to the resources they need for the long-term well-being of their children and families.
Janelle received her Juris Doctor, with a concentration in Family Law, from The George Washington University School of Law, Master of Social Work from the University of Michigan as a Child Welfare Scholar and Bachelor in Social Work from Andrews University (magna cum laude, Dean's List). She is licensed to practice in Maryland and the District of Columbia, as well as in St. Kitts and Nevis Circuit Courts of the Eastern Caribbean Supreme Court.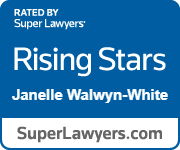 Recognition
Super Lawyers Maryland Rising Star, 2023