Shulman Rogers NEXT
Shulman Rogers NEXT aligns the delivery of legal services with the needs of start-up and emerging growth companies.
Our firm has mentored and provided legal services to thousands of start-up and emerging growth companies. NEXT team members have founded, run and invested in early stage companies. We understand business from the perspective of entrepreneurs and investors, and we employ that firsthand experience to further the success of your business.
---
THREE KEY PIECES
NEXT services are designed and delivered through fixed-price packages and fixed monthly pricing to maximize predictability for entrepreneurs and provide an affordable and sustainable model for consuming legal services. We appreciate that every dollar is critical and budgeted for and that any fee-related surprise can have a significant negative impact on your business and stress level.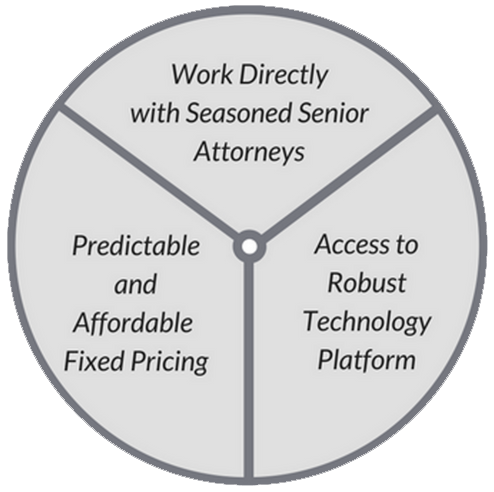 As part of Shulman Rogers NEXT, you will have the opportunity to work directly with seasoned senior attorneys who will advise you and manage all of your legal work and interactions within the program. Your Shulman Rogers NEXT attorneys will become essential members of your team as legal and business advisors who understand your business and goals and who are committed to your company's success. Participation in NEXT also affords you access to Shulman Rogers' network of investors and other service professionals, such as accountants, financial advisors, bankers, insurance providers and IT professionals.
Through NEXT, you will have access, at reduced rates, to a robust technology platform for managing the legal side of your business. This platform includes:
Box

for documentation management and due diligence rooms
DocuSign

for electronic signature management of your legal documents
eShares

for managing your cap table
Access to

PitchBook

research on venture capital firms and deals
As your company continues to grow, Shulman Rogers can meet and manage all of your legal needs in a coordinated, cost-efficient and sustainable manner.
---
PRODUCTS AND SERVICES
There are two ways for Seed and Early-Stage companies to consume legal service through the Shulman Rogers NEXT Program:
Fixed Price Packages
Formation Package
Conversion Package
Financing Package
Employee/Contractor/Advisor Package
Equity Incentive Plan Package
Intellectual Property Package
Wealth Preservation Package
Pre-litigation Dispute Resolution Package
Immigration Package
NEXT GC (Outside General Counsel Services)
Sign up for committed monthly hours
Lock in an affordable fixed monthly fee
Select services ranging from 5 to 40 hours per month
Use

NEXT

GC hours to cover your day-to-day legal issues, such as contract review, employment matters, IP, governance, routine tax, as well as general legal and business questions
For more information about Shulman Rogers NEXT, please contact NEXT@shulmanrogers.com.