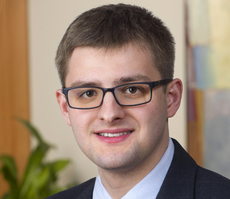 Nikola B. Vujcic
12505 Park Potomac Avenue
6th Floor
Potomac, MD 20854
Nikola ("Nick") B. Vujcic channels his vigor as a legal professional advocating on behalf of local and national home builders and land developers. In practice, he has worked on various matters involving contract, land use, zoning, and administrative law.
While a law student, Nick worked as a judicial intern for the Honorable Glenn T. Harrell, Jr. of the Maryland Court of Appeals. From that experience, he enhanced his legal knowledge and skills significantly, and gained invaluable insight from one of Maryland's top legal minds. He also served as a member of the George Washington University Law Review.
Local to Montgomery County, Nick grew up in North Bethesda and attended High School at the Montgomery Blair Math, Science, and Computer Science Magnet Program. Coming from a family of architects, Nick chose to study architecture at the University of Maryland, where he earned a B.S. and cultivated his passion for building design and construction—a passion which he now brings with him every day to guide his legal practice.
Nick has also been an accredited LEED® Green Associate since 2012, signifying that he is knowledgeable of the latest green building design and construction practices.