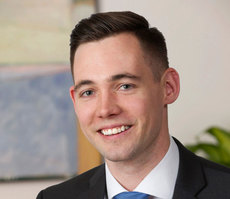 Paul M. Schwinn
12505 Park Potomac Avenue
6th Floor
Potomac, MD 20854
When asked about Paul Schwinn, clients most often comment on his responsiveness and his willingness to roll up his sleeves to get the job done right and efficiently. By providing a business-minded approach to legal issues and opportunities, clients view Paul as an all-around business and legal advisor.
In the Montgomery County community, Paul volunteers his time as a mentor for various entrepreneurs of both emerging growth and non-profit entities. Aside from multiple speaking engagements about the considerations, issues and process of organizing/incorporating an entity, Paul was recruited to serve as a mentor for the DC Chapter of the Founder Institute, where he advises and coaches more than 20 entrepreneurs for each Fall and Spring semester of the program. Paul has also served multiple times on the Duck Pond – a "Shark Tank" for existing and prospective non-profit entities, organized by the Nonprofit Village.
His more established oil and gas, government contractor and biotech clients remark on Paul's seeming 24/7 availability and his ability to work effectively with their business and legal teams – often providing key information and context to bridge gaps and move projects forward. Paul is known as the "numbers guy" in the group – he regularly and effectively counsels clients on a host of topics, including the implications of convertible notes on capital structure, and the viability of a proposed acquisition.
REPRESENTATIVE MATTERS
$90+ million acquisition, with an additional earnout, for the practice of a national insurance brokerage and advisory practice. Second-chaired the drafting and negotiation of the definitive Membership Interest Purchase Agreement and ancillary agreements, and managed the drafting of the Disclosure Schedules on-site with the seller's management team.
$75 million acquisition of a large regional oil and gas distributor. Led a 14 lawyer team responsible for abstracting and organizing more than 400 contracts from more than 300 providers. This assessment became the support for the offer price in the deal.
Advised information systems platform start-up, taking the company from the idea stage to raising more than $100,000 through two rounds of financing and launching its minimum viable product.
$2.4+ million Series Seed, and $4.8 million Series A financings for a local technology start-up in the restaurant space – now regarded as one of the top "dining" applications on the iTunes Store.
$7 million Series A-2 financing for a national health technology platform to fund a "double dummy" strategic acquisition.
$10 million Series B financing for a local leadership development company. The round included the conversion of more than $3.5 million in convertible notes.
News
Seminars & Speaking Engagements
Professional & Community Affiliations
Montgomery County Bar Association Softball League, Commissioner (2017 – present)
Maryland State Bar Association, Member
Bar Association of Montgomery County, MD, Member
Court of Appeals' Mentoring Program
The Nonprofit Village's Duck Pond - A Shark Tank for Nonprofit Organizations, Mentor and Panelist
Empowered Women International, Volunteer