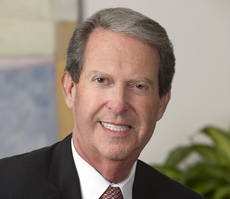 James E. Savitz
12505 Park Potomac Avenue
6th Floor
Potomac, MD 20854
Clients come to Jim Savitz for sound guidance and superior customer service in meeting their real estate needs. For more than 40 years, he has used his legal acumen to deftly handle any real estate transaction he has encountered, from standard residential settlements to complicated real property transactions, and everything in between.
One of the founding principals of Village Settlements Inc. and Hirschel, Parker, Savitz, Hollman, P.C., Jim brings his extensive experience to the firm. "Shulman Rogers has one of the largest and most respected, full-service residential and commercial real estate practices in the area, and the team is first rate, energetic and client-service focused. This is the perfect match for me and my goal of helping Shulman Rogers become the leader in settlements the Metro region," said Mr. Savitz.
Mr. Savitz is the only Montgomery County attorney to receive the Affiliate of the Year award from both the Montgomery County and Maryland Association of Realtors. Peg Mancuso, President of the Greater Capital Area Association of Realtors, says "In my 30 years in the real estate industry, I have been honored to have had the particular privilege of working with Jim Savitz on a regular basis. His ceaseless commitment to provide the highest quality of service, his boundless enthusiasm for the law, a dedication to his clients and his eternal optimism and humor, make him truly sui generis."
In addition to his other duties, Mr. Savitz will be facilitating a robust training program in conjunction with PDI. The schedule can be found here.
Mr. Savitz is a past member of the Shady Grove Hospital Foundation Board, the Market Square Advisory Board of the City of Gaithersburg and the Board of Directors of Chambers of Commerce in Gaithersburg and Potomac. Jim also served as the President for the Friends of Wells Robertson House and the Montgomery County Child Care Commission. He was named Distinguished Citizen of Gaithersburg in 2015. He has been recognized by SuperLawyers for being among the top 5% of Real Estate lawyers practicing in his local area.
News
Events