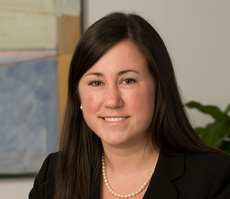 Alexis H. Peters
12505 Park Potomac Avenue
6th Floor
Potomac, MD 20854
Alexis Peters is a shareholder and chair of the Firm's Commercial Real Estate Transaction Group. Alexis focuses her practice on commercial real estate transactions, including acquisitions, dispositions, development and the financing of all types of commercial real estate.
Commercial real estate companies like working with Alexis because she treats every client deal as though it is her own. As a result, they trust her and know that she will do great work. Clients also appreciate the fact that she keeps them informed as to what is going on in the market, providing meaningful market intelligence as well as introduction to new relationships. As one of the more active transactional attorneys in the Metropolitan area, Alexis' clients feel comfortable that she has negotiated and closed so many real estate transactions.
Alexis has successfully structured, negotiated, documented and closed transactions involving shopping centers, office and industrial buildings, hotels, multi-family housing (rental and condominium), health care facilities and other retail and mixed-use projects. Her clients include real estate developers, investors, lenders, hotel owners and home builders. She also represents landlords and tenants in retail, industrial, ground and office lease transactions.
REPRESENTATIVE MATTERS
Acquisition, Financing, Management Agreement and Franchise Agreement for a Marriott-flagged 96-room hotel in North Charleston, South Carolina
Purchase and CMBS loan assumption of The Shops at Greenwood Village, a 209,953 sq/ft shopping center located in Greenwood Village, Colorado
Acquisition, Financing and Development of Tysons Central - Silver Line, located Rt. 7 and Rt. 123 involving 1,500,000 sq/ft mixed-use project, apartments, office, hotel and retail
Purchase, Financing and Redevelopment of Midtown Row, a 249,895 sq/ft neighborhood shopping center located in Williamsburg, Virginia
Acquisition, Financing and Development of "The Swift" in Petworth, Washington, D.C. involving redevelopment of an existing grocery store into a new 62,400 sq/ft grocery store and 220 multi-family units
Ground Lease Purchase and Financing of Cromwell Fields, a 233,885 sq/ft shopping center located in Glen Burnie, Maryland
Hotel Joint Venture and Mixed-Use Development of City Market at O, 880 P. Street, N.W., involving 182 room hotel in 1,000,000 sq/ft mixed-use development
$24,000,000 CMBS Refinance of Heritage Square, a 188,000 sq/ft regional retail center located in Granger, Indiana
Purchase and CMBS loan assumption of Hollinswood Shopping Center, a 112,581 sq/ft shopping center located in Baltimore, Maryland
$55,000,000 Life Company Refinance of Potomac Place, a 79,438 sq/ft shopping center in Potomac, Maryland
Acquisition and Financing of 1400 Eye Street, N.W. Washington D.C., which involved 175,000 sq/ft office building subject to Washington Metropolitan Area Transit Authority ground lease
Acquisition and Two-Tiered Financing of 1625 K Street, N.W., Washington, D.C.
Acquisition, Financing, Leasing and Disposition of 1350 Eye Street, N.W. involving 381,000 sq/ft office building
Acquisitions and Financing of Square 85 Assemblage, 1900, 1920 L Street and 1020 19th St. involving 311,062 sq/ft buildings, a Prime Class A redevelopment site
Acquisition, Financing and Development of Rutherford Crossing, 151 Market Street, Winchester involving 400,000 + sq/ft shopping center
News
Seminars & Speaking Engagements
Speaker, Advanced Real Property Institute, Maryland State Bar Association
Professional & Community Affiliations
Advanced Real Property Institute, Maryland State Bar Association, Co-Chair, 2012-2013
American Bar Association, Member
Maryland State Bar Association, Member
Bar Association of Montgomery County, Member
Real Estate Section Council for the Maryland State Bar Association, Member
Real Estate Section of the Bar Association of Montgomery County, Co-Chair, 2007-2013