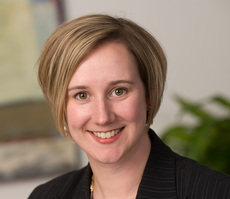 Kristin E. Draper
12505 Park Potomac Avenue
6th Floor
Potomac, MD 20854
Clients hire Kristin Draper for commercial and personal litigation needs because she offers an aggressive yet tactful approach to working with opposing counsel. Her peers are quick to point out her prowess as an attorney, her work ethic and her superior initiative. Clients often cite her commitment to client service excellence as she makes every effort to ensure that their needs are being met.
Clients benefit from her approach and creativity in developing dispute resolution strategies. After working with her, they realize that she truly understands that no two clients are alike. As a result, they find that Ms. Draper develops a strategy that is tailored to their specific situation and goals. She is also known to be very responsive, punctual and highly informative.
Ms. Draper's experience includes managing all facets of complex commercial litigation, including disputes regarding multi-million dollar real estate transactions, trade secrets misappropriation, intellectual property, stock warrants, shareholder rights, hospitality procurement, and employment. In addition, Ms. Draper handles various trust and estate disputes, assisting families in effectuating estate planning goals and seeking redress for wrongs committed by fiduciaries. She often appears before regional tribunals in Maryland, and has practiced in state and federal courts throughout the country. Ms. Draper also offers counsel regarding contracts in various procurement, employment, real estate and other business matters.
Ms. Draper assists a variety of clients, including real estate investors, transportation companies, medical practices, procurement firms, national child care providers, facilities management companies, marketing companies, technology-centered businesses, and individuals and families.
Representative Matters
Commercial Litigation
Representation of 50% owner of limited liability company owning $50 million Washington, D.C. office building in dispute concerning sale of property.
Representation of large minority partner in litigation and pre-litigation disputes concerning various real estate partnerships owning shopping mall, residential apartment complexes, and raw land in the Washington metropolitan area.
Representation of real estate developer in litigation and various other matters over his interest in $106 million office building and contiguous property located in Washington metropolitan area.
Representation of sports league in litigation in Federal court in Nevada concerning the design and acquisition of a rocket-powered airplane.
Representation of software development company in Federal lawsuit against former officer, director, and employee concerning ownership of the company's intellectual property.
Representation of leading solar energy company in Federal lawsuit against former business partner concerning the former partner's breaches of a reseller agreement.
Representation of regional fuel distributor against operator for breach of supply agreement.
Representation of mortgage broker in enforcing restrictions covenants against former employees.
Representation of carpet cleaning company in arbitration concerning breach of asset purchase agreement.
Personal Litigation
Representation of trust beneficiary in seeking removal of Trustees suspected of fraudulent and conflicted actions.
Representation of former trustee and power of attorney in dispute with family members regarding administration of trust and actions as healthcare power of attorney for incapacitated parent.
Representation of estate beneficiaries in seeking redress for undue influence and suspected elder abuse of incapacitated parent.
News
Professional & Community Affiliations
Maryland State Bar Association, Member
Bar Association of Montgomery County, MD, Litigation Section, Member
Montgomery County Schools Information Technology Foundation, Board Member
Quaint Acres Citizen's Association, Executive Committee Member, 2007-2012