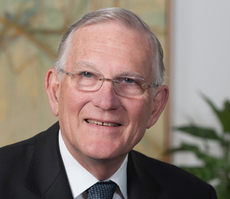 Robert B. Canter
12505 Park Potomac Avenue
6th Floor
Potomac, MD 20854
Clients hire Robert B. Canter when they need a seasoned commercial tax lawyer who understands how to develop tax-efficient deal structures which not only create real value for them (i.e., tax-savings) but also position their companies for future growth.
Mr. Canter has been entrusted with many clients' "bet-the-company" business transactions involving complicated tax issues for over three decades. He has earned this trust because he is consistent, reliable, produces excellent work product and is a pleasure to work with.
Mr. Canter's clients benefit from his noteworthy background. In addition to his law degree, he holds a Masters of Law in Taxation and has held positions within the Office of the General Counsel at the Internal Revenue Service and at the U.S. Tax Court. Clients profit from this rare tax-specific education and governmental experience, coupled with more than 30 years experience in private practice. He has a unique combination of skills, derived from his years of assisting businesses in all aspects of their formation and growth, as well as his depth of knowledge in business taxation matters.
Recognizing that simply providing tax analysis to a client is a step away from the core business issues involved in the formation, expansion and survival of a company, Mr. Canter has broadened his practice so that he provides not only tax assistance on transactional matters, but also applies his legal drafting and negotiating skills to many other complex business matters. He has helped shepherd many companies through the full business cycle – from start-up, raising initial and subsequent rounds of financing and successful sale. Mr. Canter has been responsible for drafting and negotiating merger and acquisition agreements for business sales or acquisitions ranging from relatively small sales to private investors to those involving large company sales in excess of $200 million.
With his background in federal income taxation matters, Mr. Canter has assisted a large number of clients in obtaining tax-exempt status and complying with tax and corporate governance rules applicable to tax-exempt entities. In addition, he frequently handles appeals to the Internal Revenue Service of proposed tax assessments and the preparation and submission to the Internal Revenue Service of requests for private letter rulings.
Publications
Events
Seminars & Speaking Engagements
Lecturer on various topics, such as Formation and Operation of Partnerships, LLCs and other Business Entities, Taxation of Partnerships, Tax Aspects of Mergers and Acquisitions, and Key Tax Compliance Traps for Tax-Exempt Entities.