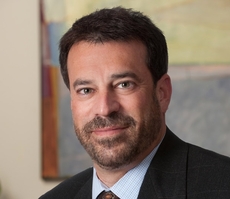 Matthew S. Bergman
12505 Park Potomac Avenue
6th Floor
Potomac, MD 20854
Matt has closed more than $3 billion in deals while representing both lenders and borrowers. One client notes, "Matt's consistent attention to my needs makes me feel I am the most valued client at Shulman Rogers. His effective guidance, intuitive understanding of my goals and his deep well of industry knowledge have consistently delivered great business results on both my routine and my complex matters."
Matt and his team cost-effectively serve Washington D.C. Metro area and national clients as a trusted business and legal advisor on working capital lines of credit, acquisition financings, real estate loans, leveraged buy-out financings, asset-based loans and virtually every other secured or unsecured financing arrangement matter with values from $50,000 to $500,000,000. A lead banker for a major money center bank praised his efforts on a recent $120,800,000 deal, stating "Matt brought the extensive resources we needed to get [the] deal done in a timely fashion. The Shulman Rogers team was skilled, responsive and proved to be a great value for our customer."
Recognized as a Power Player by Smart CEO Magazine, Matt is considered by clients as a market leader for loan syndication, club deals and participations. He regularly represents lead banks, bank participants and borrowers in multi-bank credit facilities. Matt's practical, straight-forward, deal-making approach received a 100% satisfaction rate from his clients in a 2016 Client Satisfaction Survey and has earned him many new clients who witnessed his professionalism and effectiveness from the other side of a deal.
Matt is recognized nationally by government contractors as one of the most experienced attorneys for government contractor financing arrangements. Situated in the heart of the Metropolitan Washington region, Matt is well positioned to stay on top of the latest requirements and opportunities for assisting government contractors to cost-effectively finance government receivables. He also routinely helps clients obtain the funding they need to maintain and grow their businesses.
In addition to financial services, clients from professional services, technology, construction, hospitality, real estate and retail businesses regularly seek his counsel and guidance on cybersecurity, data management and data privacy matters. In fact, Matt also chairs Shulman Rogers' Cybersecurity and Data Privacy Practice. He and his team assist national, regional and local clients in reviewing their agreements with customers, suppliers, vendors, point-of-sale providers and merchant banks to manage and properly allocate the risk, liability and losses that may result from a data breach. Matt's team works with clients to evaluate technological protocols, identify vulnerabilities, assess risk and implement risk management techniques. Matt was a participant in the National Institute of Standards and Technologies (NIST) endeavor to establish a national framework for cybersecurity. He developed a deep base of experience in information management-related issues as part of advising his financial services industry clients and the broad range of businesses with whom they work.
Representative Transactions
Documented, negotiated and closed a $25,000,000 loan transaction made by a national bank to a regional health and fitness club company.
Documented, negotiated and closed a $27,500,000 credit facility made by a regional bank to a local government contractor.
Reviewed a credit agreement on behalf of a national bank participating in a syndicated credit facility.
Represented the lead bank and administrative agent in a $500,000,000 credit facility made available to an international government contractor.
Documented, negotiated and closed a real estate acquisition, construction and development loan made by a regional bank to a regional developer.
Represented a private equity group providing $3,500,000 of mezzanine financing to a government contractor.
Drafted form loan documents for a regional bank to use for virtually all of its loan transactions.
Drafted form addenda for a national bank to use for its loans and credit facilities made available to government contractors.
Handled the workout and restructure on behalf of a business development company of $1,000,000,000 of debt held by financial institutions and insurance companies.
Handled various contract reviews and negotiations on behalf of a national operator of rest stops and airport concessions.
Documented, negotiated and closed a $5,000,000 loan made by a lender to a skilled nursing facility operator.
Documented, negotiated and closed a $7,500,000 loan made by a lender to a pharmaceutical company.
Represented a private equity group providing debt and equity to a local government contractor.
Documented, negotiated and closed a $5,000,000 credit facility made by a community bank to a company specializing in buying, renovating and selling residential housing.
Interview of Matt Bergman on Video
Content Marketing Q&A by Matt Bergman
News
Publications
Events
Seminars & Speaking Engagements
Speaker/Panelist for various seminars on government contract finance