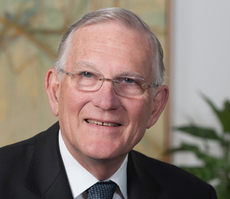 Robert B. Canter brings to his legal practice a unique combination of skills derived from his years in assisting businesses in all aspects of their formation and growth, as well as his depth of knowledge in business taxation matters.
Building on his initial expertise in taxation gained from service with the Office of the Chief Counsel of the Internal Revenue Service and the U.S. Tax Court and his Masters of Law in Taxation, Mr. Canter has developed expertise in a broad range of federal and state tax matters. He has been involved in developing tax-efficient structures for complex business transactions for Firm clients in all areas of business.
Recognizing that simply providing tax analysis to a client is a step away from the core business issues involved in the formation, expansion and survival of a company, Mr. Canter has broadened his practice so that he provides not only tax assistance on transactional matters but he also applies his legal drafting and negotiating skills to many other complex business matters. He has helped shepherd many companies through the full business cycle – from start-up, raising initial and subsequent rounds of financing and successful sale. Mr. Canter has been responsible for drafting and negotiating merger and acquisition agreements for business sales or acquisitions ranging from relatively small sales to private investors to those involving large company sales in excess of $200 million.
Mr. Canter assists his clients with the preparation of a wide variety of contracts, such as employment agreements, restrictive covenants agreements and marketing and distribution agreements, with the goal being to prepare contracts that both parties can readily understand, thereby minimizing the prospects for disputes. When problems arise, however, Mr. Canter works with the clients to find practical, cost effective solutions to difficult legal problems. In this vein, he has often helped disgruntled shareholders and partners resolve disputes in a mutually acceptable manner, thereby avoiding the costs and distractions of litigation.
With his background in federal income taxation matters, Mr. Canter has assisted a large number of clients in obtaining tax-exempt status and complying with tax and corporate governance rules applicable to tax-exempt entities. Mr. Canter also frequently handles appeals to the Internal Revenue Service of proposed tax assessments and the preparation and submission to the Internal Revenue Service of requests for private letter rulings.
News
Events
Seminars & Speaking Engagements
Lecturer on various topics, such as Formation and Operation of Partnerships, LLCs and other Business Entities, Taxation of Partnerships, Tax Aspects of Mergers and Acquisitions, and Key Tax Compliance Traps for Tax-Exempt Entities.