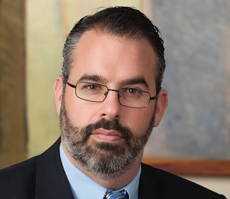 Matthew D. Alegi is a Shareholder in the firm's Real Estate and Commercial Litigation departments. He practices in a wide range of real estate and finance related areas. Whether conducting a residential real estate settlement, advising a local bank regarding a problem loan, or counseling a national company involved in a complex commercial transaction or title insurance dispute, Mr. Alegi blends technical expertise with practical insight to efficiently achieve positive results for his clients.
Mr. Alegi concentrates his practice primarily on representing buyers, sellers, and lenders in the acquisition, sale and financing of real property. Mr. Alegi's practice also involves advising lenders and borrowers regarding problem loans, including commercial and consumer loan workouts, loss mitigation strategies and collateralization issues. He regularly represents title insurers and insureds regarding complex real estate title disputes and title insurance claims.
In addition, Mr. Alegi advises title insurance agents, mortgage brokers, real estate brokers and banks regarding day-to-day operations and regulatory compliance. Mr. Alegi also acts as compliance counsel to local, regional and national builders and developers, specifically regarding outsale contract compliance and RESPA issues, and he has provided legal services to the United States Department of the Treasury under the Troubled Asset Relief Program (TARP). He also regularly represents clients involved in real estate contract disputes.
Mr. Alegi is currently Chair of the Title and Closings Committee of the Maryland State Bar Association Real Property Section and Co-Chair of the Bar Association of Montgomery County Real Estate Law Section. In 2012 he was made a Fellow of the Maryland Bar Foundation in recognition of his "outstanding dedication and contribution to maintaining the honor and integrity of the legal profession, the improvement and facilitation of justice, the work of the organized Bar of Maryland and civic leadership" —an honor given to only 2.5% of Maryland State Bar Association members. He is a regular speaker at continuing legal education courses, and recently taught at the Maryland Advanced Real Property Institute. He is also a Maryland licensed Real Estate Broker. While attending Catholic University of America, Columbus School of Law, Mr. Alegi was a Merit Scholar and Associate Editor of The Journal of Contemporary Health Law and Policy.
News
Seminars & Speaking Engagements
Keynote Speaker, "Fundamentals of Real Estate Closing in Maryland," Lorman Education Services
Lecturer, "Pitfalls in Residential Practice; Short Sales, Loan Modifications, Tax Issues, Mediation, and the National Mortgage Servicing Settlement," Maryland State Bar Association Advanced Real Property Institute
Lecturer, "Real Estate Closings," Maryland State Bar Association
Speaker, "Liability Protection, Entity Selection and Insurance," Investing in Real Estate, a Presentation of Wealth Strategies Group, NPC
Speaker, "Cancellation of Indebtedness Income and the Mortgage Debt Forgiveness Relief Act Extension: Plan for 2013," Business Breakfast of Maryland
Lecturer or Moderator, Montgomery County Bar Association Real Estate Section, Over 40 educational seminars and meetings
Professional & Community Affiliations
Maryland State Bar Association, Real Property Section
- Chair, Title and Closings Committee
- Co-chair, Annual Meeting 2012
- Member, Section Council
Maryland State Bar Foundation, Fellow
Montgomery County Bar Association, Real Estate Section, Co-Chair
Montgomery County Bar Foundation, "Bar Leader"
Montrose Woods Association, Board of Directors (2007 - 2011)
Montgomery County Students Construction Trades Foundation, Board of Directors (2006)