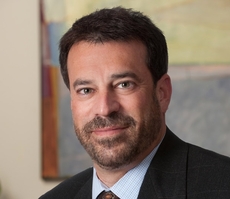 Matthew Bergman is a shareholder of the firm and member of the firm's Business & Financial Services Department. As a "transactional" lawyer, Matt has documented, negotiated and closed more than $3 billion dollars worth of loans, credit facilities and debt arrangements. He regularly represents lenders and borrowers in a broad array of financings, both secured and unsecured, for general working capital purposes, refinancing existing debt facilities or financing company buyouts, acquisitions and mergers. Matt oftentimes represents the lead bank or administrative agent in syndicated loans or club deals, as well as participant lenders in multi-lender credit facilities. He is one of just a few attorneys in the country with significant experience in handling all aspects of financial accommodations for large and small government contractors, information technology (product and/or service) providers and communications companies. That being said, he always welcomes the opportunity to represent any company or business (large or small) looking to obtain a loan, a letter of credit or financial accommodation of any type or nature, including, without limitation, real estate loans and real property secured transactions.
Matt works with banks and businesses alike to properly structure debt and equity positions of business owners, as well as private equity groups who invest in the business. He has developed a solid reputation in the Washington, DC credit market as a practical, experienced and efficient "deal guy" who can consistently "get the parties to the finish line". Clients appreciate Matt's ability to bring his market-knowledge to the table when party expectations become misaligned. He regularly documents and negotiates intercreditor and subordination arrangements for both senior and subordinate credit providers of both secured and unsecured debt, and he is well-versed in all aspects of Article 9 of the Uniform Commercial Code (aka the UCC) after having served as the "go to" guy for all UCC secured transaction matters at his prior firm, Dickstein Shapiro LLP.
Matt also works closely with the firm's creditors' rights attorneys in documenting, negotiating and consummating workouts, forbearance arrangements and debt restructures. Recently, Matt served as the lead counsel in a $1 billion dollar debt restructure on behalf of a publicly traded business development company, as well as the subsequent refinancing of that restructured debt facility 6 months later. However, the dollar amount of any particular transaction isn't a significant factor in determining whether Matt chooses to handle the transaction - as he puts it, "no deal is too big or too small for us to handle" - the deciding factor is whether he and his staff can accomplish the transaction efficiently without compromising the quality of the representation in any respect whatsoever.
Matt has written a number of articles, served on several speaking panels and periodically conducts "executive briefings" on government contract financing, secured lending and intercreditor arrangements. He has hosted his own panel and breakfast symposium on "Recessionary Pressures Affecting Government Contractor Financings, Mergers and Acquisitions" where his clients had an opportunity to share their respective industry knowledge and network with others similarly positioned in the government contracting and credit markets.
News
Publications
Seminars & Speaking Engagements
Speaker/Panelist for various seminars on government contract finance