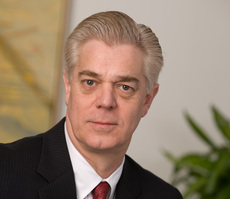 Sean P. Sherman has been a partner at Shulman Rogers since 2000, primarily representing national and regional new home builders and land developers, with a particular emphasis in real estate and construction litigation. Sean is well-known among new home builders for resolving complex disputes in Maryland, Virginia and elsewhere with creative, cost-effective and rapid solutions, both as outside general counsel and litigation and dispute resolution/avoidance counsel. As a result of his knowledge of construction defect claims, Sean has helped builders successfully resolve hundreds of condominium construction defect and new home warranty disputes before the matters reached the litigation stage. Sean has similarly resolved hundreds of multi-million dollar land development disputes both through successful litigation, and pre-litigation dispute resolution/avoidance techniques.
Sean maintains an active trial and litigation practice, and also advises his home builder clients on real estate transactions and documentation, with a particular view toward litigation avoidance.
Mr. Sherman graduated from Princeton University in 1982 with a B.A. in politics and obtained his juris doctor degree (graduating first in his class) from the Howard University School of Law in 1990.