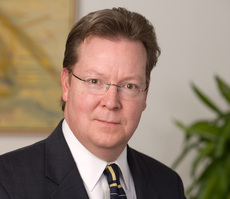 Eric J. von Vorys is a Partner in Shulman Rogers' Intellectual Property practice group, specializing in trademark and unfair competition law , copyrights, domain names and related litigation.
Mr. von Vorys has represented trademark owners for more than 10 years. Besides prosecuting thousands of federal trademark applications, Mr. von Vorys advises clients in all aspects of brand protection. His client counseling experience includes a full range of intellectual property-related issues, including transaction-related evaluation of intellectual property portfolios, clearance of marks, domain name dispute resolution, evaluation of website content and negotiating and crafting of intellectual property agreements and licenses. Mr. von Vorys has had extensive experience advising clients on the creation of domestic and foreign trademark registration programs under the Madrid Protocol applications and the development of strategies to lessen the chances that a competitor will be able to challenge those registrations.
Mr. von Vorys brings a creative approach to trademark disputes and has negotiated countless settlement agreements. When necessary, he litigates trademark infringement and unfair competition cases in U.S. District Court, as well as registration proceedings before the U.S. Trademark Trial and Appeal Board and Domain Name Arbitration Panels. Among his noteworthy cases are Phillips International, Inc. v. Tella, Case No. 095461 (NAF Sept. 21, 2000) (Perluss, Arb.) and Strum v. Nordic Net Exchange AB, Case No. 102843 (NAF Feb. 14, 2002) (Hill, Arb.), in which he was successful in securing the transfer of domain names from cybersquatters to legitimate trademark owners.
Mr. von Vorys has represented clients ranging from start-ups to established companies in the areas of computer software and services, e-commerce and the Internet. His practice includes preparation and review of: (i) software license agreements and end user licensing agreements, (ii) software development agreements, (iii) source code escrow agreements, and (iv) Internet-related agreements including website development and hosting agreements, website terms and conditions of use, privacy policies, web-linking and revenue sharing agreements. He also provides legal services and solutions to the firm's non-technology business clients, who face a broad range of technology issues in today's business environment.
Additionally, Mr. von Vorys represents direct marketers, advertisers, media and Internet companies in all aspects of their advertising and promotional marketing business. He assists clients in their marketing endeavors, including clearance of advertising and marketing materials, sweepstakes, games of skill, and other contests, direct marketing campaigns, Internet marketing, and privacy issues.
Prior to joining Shulman Rogers, Mr. von Vorys was counsel for USLaw.com, an on-line legal resource provider and interned for Judge Charles R. Weiner at the U.S. District Court, Eastern District of Pennsylvania. Mr. von Vorys graduated from the University of Pennsylvania and George Mason University School of Law. He is a member of the Maryland State Bar, the District of Columbia Bar, the Bar Association of Montgomery County and the American Bar Association. He regularly speaks at seminars on Intellectual Property issues.
Representative Cases:
Man & Machine, Inc. v. Apple, Inc., Civil Action No. 8:08-CV-2453 (D. Md. 2008) (assisted local counsel in orchestrating trademark infringement settlement with Apple, Inc. over Apple, Inc.'s trademark infringement);
Florida Patrol Investigators, Inc., v. Mgmt. Info. Tech. Corp., Civil No. 08-15709 CC 05 (Miami Dade County Circuit Court 2008) (represented defendant and won dismissal of lawsuit with prejudice for lack of jurisdiction);
Extra Space Storage, LLC v. Maisel-Hollins Dev. Co., Case No. RDB-07-cv-2531 (D. Md. 2007) (assisted counsel in defending local trademark owner against infringement action brought by nationwide storage company);
Moulin Rouge S.A. v. Moulin Rouge Caterers, Inc., Case No.: 8:2007-cv-02482 (successfully defended small local business against lawsuit for trademark dilution brought by famous French nightclub);
Anderson Homes, LLC, v. Delta Acquisitions And Dev., LLC, Case No. 1:2005cv00864 (D. Del. 2005) (successfully sued Delaware home builder for copyright infringement who built homes identical to our client's copyrighted plans);
Lievan v. Dryclean Direct, LLC, Case No. RDB03-cv-1623 (D. Md. 2003) (successfully represented trademark owner in federal court action against accused trademark infringer);
Craftmark Homes, Inc. v. Craftmark Homes Corporation, Case No. CIV-02-1578-HE (W.D. Okla. 2002) (won federal lawsuit against recalcitrant trademark infringer).
Publications
Professional & Community Affiliations
American Bar Association, Member
Bar Association of Montgomery County, Member, Intellectual Property and Technology Law Section
Bethesda-Chevy Chase Chamber of Commerce, Member, Technology Resources Committee